Heavy Duty Integrally Molded Conveyor Belts
Synthetic base belt that offers cleat pattern heights from 1/2" to 1-1/4". Ideal for steep inclines & moving abrasive material such as sand, gravel, rock and asphalt.
Lead Time
3-6 Weeks (Standard Lead Time)
Integrally Molded Conveyor Belts Overview
Fluent Conveyors heavy duty belts are manufactured to handle high impact and abrasive loads both horizontally and vertically. Common materials being conveyed include sand, stone, gravel, recycled asphalt product (RAP) and other heavy materials.
These belts are designed with unique cleat patters that secure loose materials to the belt base and reduce roll back or slippage. The patters overlap in a way to allow minimal vibration on the return side of the conveyor.
Key differences include:
Cleats, cover, fabric, and splice are manufactured in a single holistic process
Proven and advanced splicing to eliminate belt related issues and allow for longevity and strength.
Superior resistance to gouging, puncturing and impact created by high rubber compounds used in both the base belts and cleats.
Belt top cover and cleats are cured together which prevents separation which can take place when uncured cleats are vulcanized to a cured belt cover.
Heavy-Duty Rubber & Synthetic Fabric
Integrally molded conveyor belts are designed to handle the worlds most extreme applications. The core base belt construction has a few different options: 2 ply 220, 3 ply 240, 3 ply 330 and 2 ply 400. Additionally there are multiple different options to leverage for the cover gauge and compound. 
These heavy duty belts are manufactured from an industrial grade synthetic fabric with high-grade MOR (some resistance to moderately oily materials and organic chemicals) covers and cleats.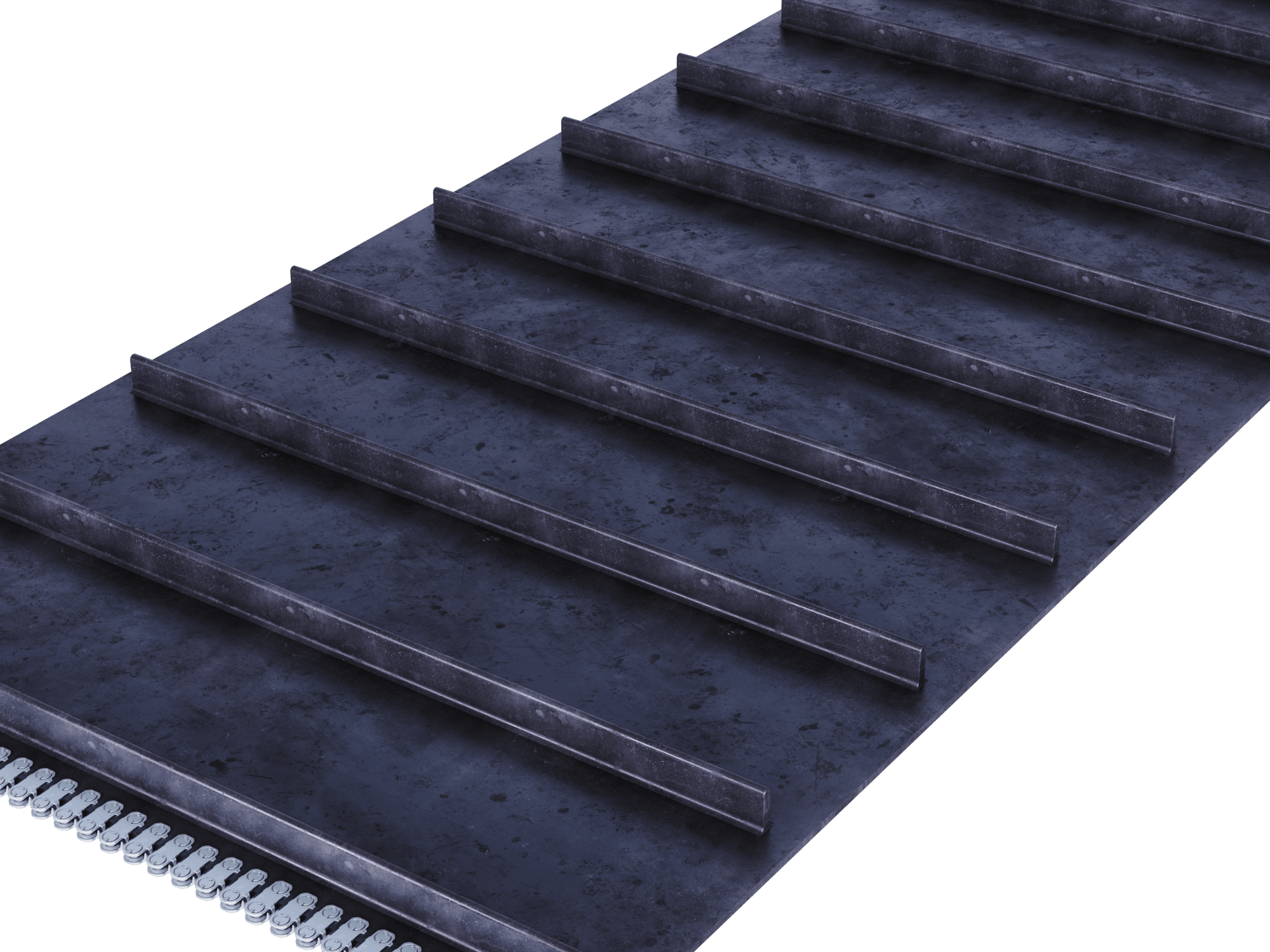 Industrial Conveyor Belt Splices
Splices are one of the most important things to consider when buying a new conveyor belt. All applications and materials have characteristics that can cause long term damage to belting and splices. 
For integrally molded belts we recommend a few different splices depending on the material. For heavy duty applications which have smaller pieces its best to utilize vulcanized endless splices or super screw fasteners. This will give the belting a smooth transition from end to end and alleviate the risk of material building up within the spliced area (which can cause a weak point). 
You can also use a mechanical splice from Flexco to simplify the installation process. We recommend using a stainless steel Flexco 550 bolt hinged fastener. This type of splice can be pre-installed from our team on both ends of the belt making the install process very easy.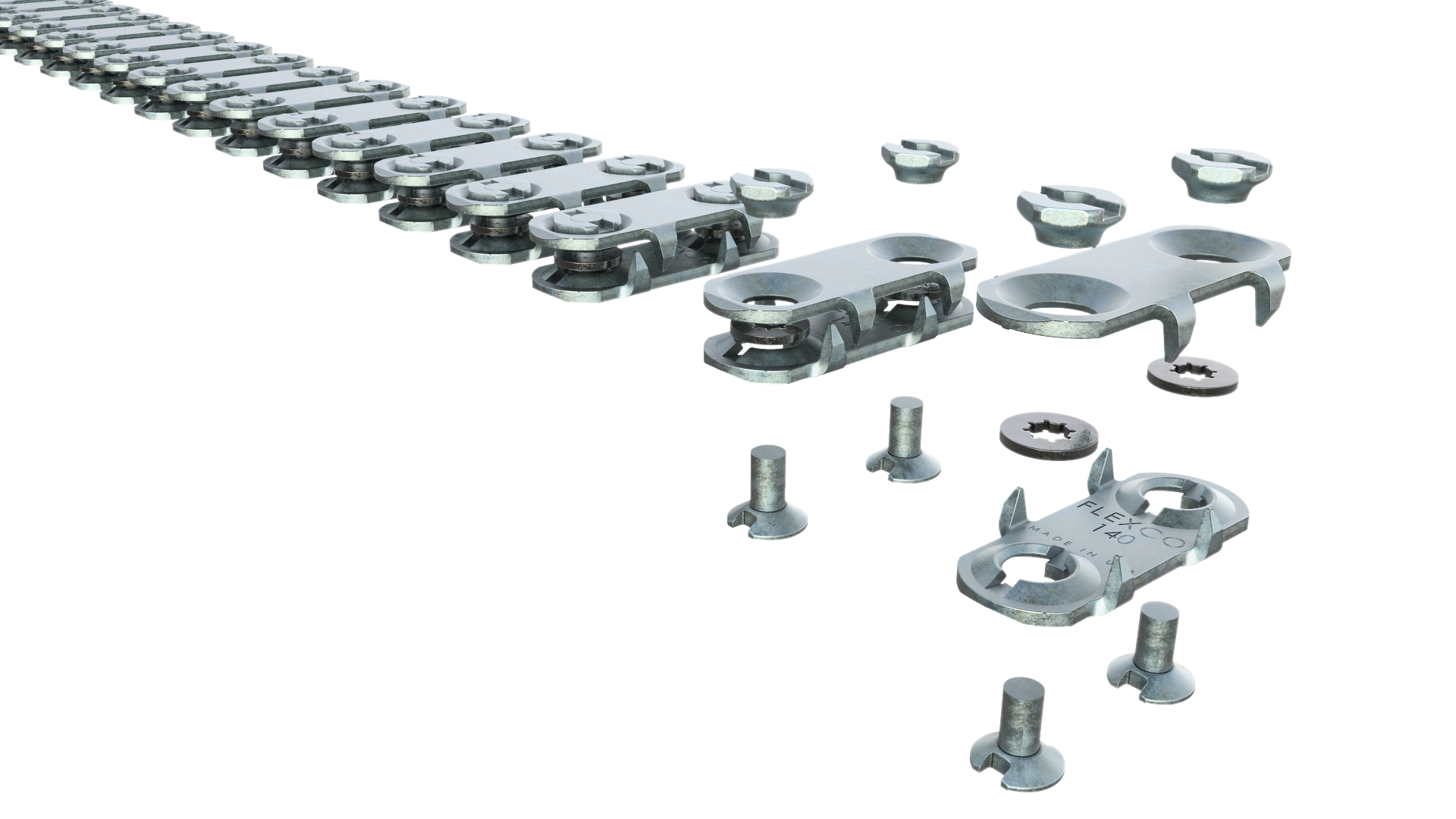 Asphalt Milling Conveyor Belts
Our main partner for this specialized belting (grade 1, high abrasive high tensile rubber) has been manufacturing Asphalt Milling machine conveyor belts since 1975. 
All our offered replacement belts are specified to meet or exceed the original manufacturer belt specifications to ensure your investments are protected. We offer both the lower impact belt and the incline conveyor belt on these machines. 
Key models and manufacturers we supply replacement belts for and stock include: 
Roadtec - RX Series - RX 500, RX 700, RX 900
Wirtgen - W Series - W 1900, W 2000, W 2100 & W 2200
Caterpillar - PR & PM Series - PM 200 / 565
CMI - PR Series - PR 500, PR 600, PR 800, PR 950
Bomag - MP Series - MP 2000
Dynapac - PL Series - PL 2000
If you do not see your model number or manufacturer listed it's OK! We offer custom belting for almost all applications! We will just need your belt dimensions, material you are moving etc. Contact us and we will be glad to help walk you through everything within a few minutes!
Detailed & Customized Mechanical Engineering
FLUENT CONVEYOR DESIGN GUIDELINES
Fluent Conveyors Roller Chain Series Conveyors are designed with cutting edge software to be ahead of the curve. Giving you an edge above the rest. All machinery is validated using premium 3D CAD software and manufactured to industry leading tolerances and standards. After completion of a design, the engineering team releases to quality assurance, allowing secondary engineers to validate critical dimensions, calculations and manufacturability. After initial and secondary engineering approvals, projects are released to purchasing and the manufacturing facility by the lead manufacturing engineer. Our experts only approve the highest caliber work to ensure you're working with nothing but the best.
FLUENT CONVEYOR MANUFACTURING GUIDELINES
Fluent Conveyors Roller Chain Series conveyors are made in innovative facilities to equip you to level up your business. With all the industry leading equipment and processes, Fluent Conveyors production team has over 100 years of combined experience paired with a facility of more than 85,000 square feet. The core facility has a paint booth, 40,000 square feet of dedicated assembly, 6 – welding stations, CNC fabrication equipment, 10 – overhead cranes and more. Parts are cut/machined on CNC Routed machines and bent on CNC Brakes for the best in industry tolerances. Every weld is tacked and re-measured for accuracy then completed by the staff of certified welders. Once manufactured, every conveyor passes through a 3-step finishing process starting with sandblasting and ending with high grade paint. Ensuring you're working with smart, flawless machinery.
CONVEYOR TESTING OVERVIEW
All conveyors are delivered to you ready for work. Assembled and released to a detailed quality assurance checklist to make sure your machinery can hit the ground running. This includes key validations such as; weld examination, sub-assembly QC, 10 hours of tested run time, head shaft height validation, frame levelness, frame width validation, overall height/length, belt speed, belt tracking, belt and conveyor alignment, electrical requirements, incline and nose over angle verification and all other major specifications. Making sure your machinery is set up for long term success.
SHIPPING OVERVIEW
We ship the smartest way possible, to make your job easy. Fluent Conveyors Product shipments are carefully planned in CAD software to be loaded in an organized, space saving, and safe manner ensuring that all products arrive on-site the same as when they left our facility. Loose items are boxed and marked, assembled parts and components tightened to endure the rigors of freight and shipping. We're here to make sure every step of the process is seamless.
Heavy Duty Molded Belt Specifications & Options
Splice Options
Hot vulcanized endless splice – for the highest strength rating and longest service life.
Mechanical lace splice using Flexco Meg Alloy 550 – easy, quick and secure
Super-Screw® flexible lacing – no drilling preparations or template; six tension ranges
Covered Splice - Top Cover
Covered Splice - Both Cover
Covered Splice -Bottom Cover
Vulcanized Endless (step splice)
Cleat Patterns
Bighorn
FabClimb (3 ply - 225 3/16 x 1/16") 3 Pattern Widths (31" 23 1/2", 17 1/4")
Fablift
Longhorn
Rubber Grade
Grade 1 Rubber (Offered Selectively and is more expensive)
Grade 2 Rubber (Standard Offering)
Pulley Diameters
2 Ply 150 - 6" Head Pulley 
Tight cleat patters, thicker base, cleat heights - This will determine the pulley diameter. 
Additional Replacement Conveyor Belts & Parts We Offer
As well as producing bespoke conveyor systems, we also supply custom replacement belts and parts to ensure no client sees their assembly line stay offline for an extended period of time. From replacement motors to sprockets, everything is covered if a client comes across a failing element of their conveyor system.
Sadly, it's inevitable your clients will face some type of issue with their conveyor system at some point. Even with Fluent Conveyors' best equipment in place, conveyors are going to suffer from wear and tear due to their demanding nature. However, being able to offer a solution at any time will be appreciated by your clients.
Get A Quick Quote On Your New Custom Molded Replacement Belt
Are You Looking For A Easy & Seamless Way To Order Integrally Molded Belting?
Our Process Is Typically Very Lean & Detailed! We Prefer Not To Waste Our Customers Time!
Please Contact Us If You Want Us To Help & You Are Comfortable With The Following:
Price Can Range For Each Belt From $2,000 - $8,000+
Lead Time of 3 Weeks – 6 Weeks + (Depending on belt specs, splice requirements etc)
You have visited our resource center and have all the required dimensions
Have the ability to review & sign approval drawings
100% pre-payment before manufacturing. These are made to order per your specifications & can't be returned